Jul-Sep, 2019
Quarterly newsletter
This is the newsletter for Q3 (quarter 3) of 2019.
Quarterly Newsletter, October 2019
Welcome to the EAPFoundation.com update for the third quarter of 2019.

In this edition: new word lists; some technical updates; and some additional writing genres.

Sheldon Smith
contact@eapfoundation.com

---
Economics Academic Word List (EAWL)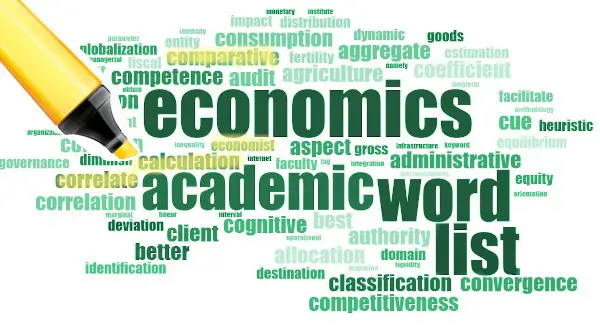 A researcher from Warwick University, James O'Flynn, contacted me about adding his Economics Academic Word List (EAWL) to the site. I liked it so much, I added an EAWL highlighter too.

The EAWL was developed in much the same way as the AWL, though based on the NGSL rather than GSL, and using Economics texts to identify common academic words for Economics study. The list is divided into 9 sublists according to frequency.
---
NGSL & NAWL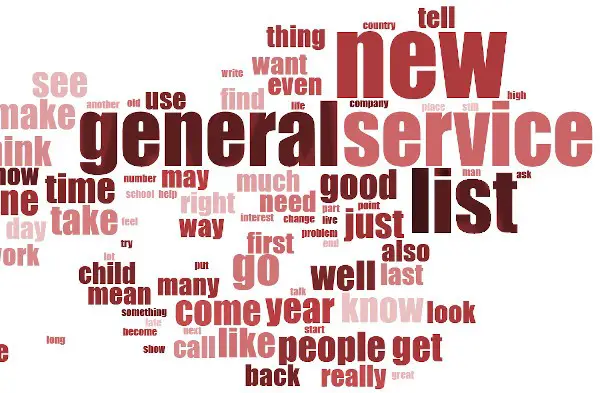 While adding the EAWL to the site, I realised there wasn't any information on the NGSL (New General Service List), on which it is based, though there has been an NGSL highlighter on the site for a few years. Likewise there has been a highlighter for the NAWL (New Academic Word List), an offshoot of the NGSL, but no information. Added now.

While the AWL remains the most widely known and used list, it seems the NGSL is increasingly used to develop other academic lists, as with the EAWL above.
---
Dictionary widget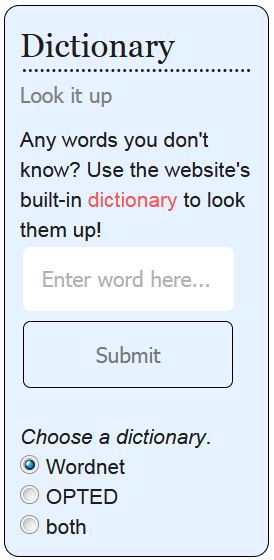 While toying around with ways to use the dictionary databases in the website, I dreamed up the dictionary widget (desktop version only). This is in the left sidebar, below the AWL widget. It allows users to check the meaning of words on the fly (intended for words on the page that might be difficult, but can be used to look up any word).

The widget, like the dictionary page, offers a choice of two databases: Wordnet, an open source dictionary from Princeton University; and OPTED, which is based on the 1913 edition of Webster's Unabridged Dictionary.
---
AWL finder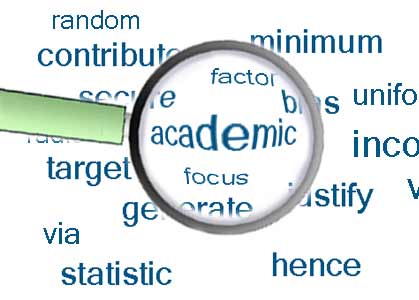 Created in 2013 and neglected, the AWL finder tool has been updated to draw on data that has been added to the website over the past six years. Use it to find individual AWL headwords and return information such as sublist, definition, pronunciation, usage, word family, and academic collocations from the Academic Collocation List.
---
---
Other updates
Other updates are less visible. I've spent a considerable amount of time checking all pages on the site, to make sure they are error free, and reworking the underlying structure so the pages load more quickly. A small change, a big amount of work. It is what led to the AWL Finder page (among others) to be updated. The result should be a cleaner running website.
---
Just joined? Want to catch up?
If you are a recent subscriber you may have missed some of the previous quarterly newsletters from EAPFoundation.com. You can access them via the links below, or by visiting the newsletters section of the website.
---
| | |
| --- | --- |
| EAPFOUNDATION .COM © 2013-present by Sheldon C H Smith. contact@eapfoundation.com | |
The following newsletters are in the archive:
Regular newsletters
Special newsletters
---