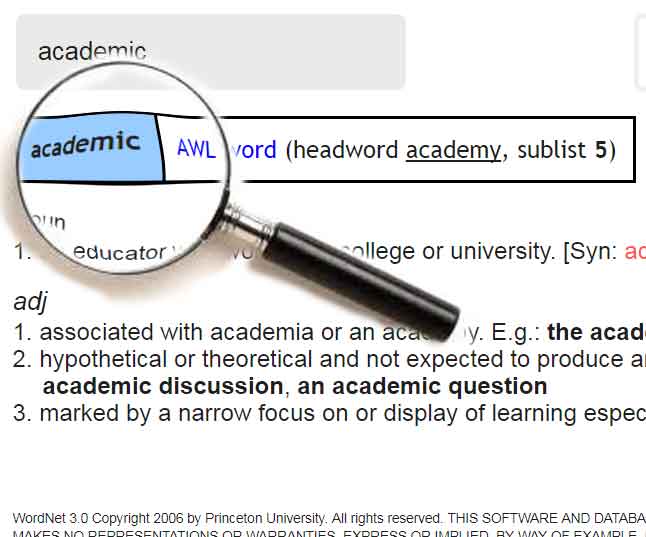 Dictionary
From WordNet
The following dictionary uses data from two open source dictionaries: (1) Princeton University's WordNet database, and (2) the OPTED database, based on Webster's 1913 Unabridged Dictionary. Choose one or both of the dictionaries to search (Wordnet is selected by default). If the word is in the AWL or GSL, further information is given, namely headword, sublist (for AWL words) or frequency (per million words, for GSL words).
WordNet 3.0 Copyright 2006 by Princeton University. All rights reserved. THIS SOFTWARE AND DATABASE IS PROVIDED "AS IS" AND PRINCETON UNIVERSITY MAKES NO REPRESENTATIONS OR WARRANTIES, EXPRESS OR IMPLIED. BY WAY OF EXAMPLE, BUT NOT LIMITATION, PRINCETON UNIVERSITY MAKES NO REPRESENTATIONS OR WARRANTIES OF MERCHANT- ABILITY OR FITNESS FOR ANY PARTICULAR PURPOSE OR THAT THE USE OF THE LICENSED SOFTWARE, DATABASE OR DOCUMENTATION WILL NOT INFRINGE ANY THIRD PARTY PATENTS, COPYRIGHTS, TRADEMARKS OR OTHER RIGHTS.
Acknowledgements for OPTED dictionary: OPTED, Project Gutenburg and the 1913 edition of Webster's Unabridged Dictionary.