Any words you don't know? Use the website's built-in dictionary to look them up!
Social media
Let's keep in touch!
EAPFoundation.com has several social media pages. Below is information on some of these.
Podcasts
Many pages have podcasts, which are spoken versions of the web pages. The podcasts are embedded directly on the page. You can also catch them on PodOmatic, where the podcasts are hosted, as well as on Spotify, iTunes and Google Play.





---

YouTube
There are a lot of videos on the EAPFoundation.com YouTube channel. There are two types: EAP Shorts, and regular videos.
EAP Shorts
Each video in the EAP Shorts series covers an element of academic English very briefly (2-4 minutes), with a snappy tune and text to go with the video rather than voice-over. These are a great way to introduce or review a topic; useful for teachers as well as students. New videos will be released every two weeks.
3. What are symbols?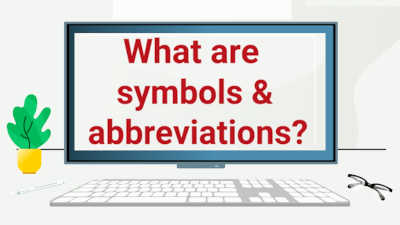 To be released on
04 Feb, 2020
Duration: 3.43
Published:
Not yet released
See why symbols and abbreviations are important, and how to abbreviate words.
2. What is the AWL?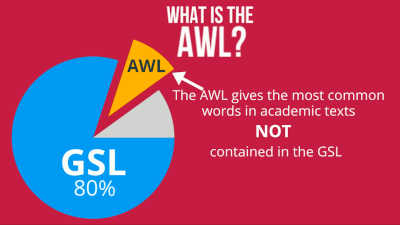 To be released on
20 Jan, 2020
Duration: 2.07
Published:
Not yet released
Get an overview of the AWL (Academic Word List) with this video.
1. What is EAP?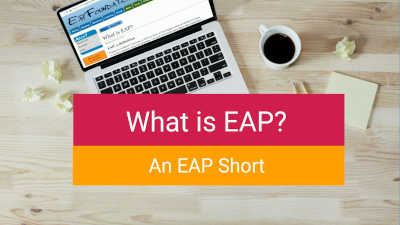 Duration: 4.13
Published: 06 Jan, 2020
Find out more about what EAP is and how it is different from General English.
---
0. About EAPFoundation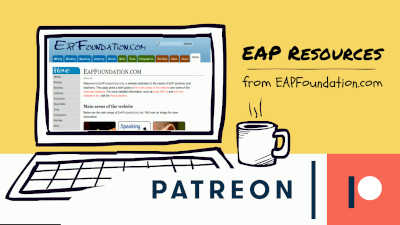 Duration: 2.42
Published: 04 Jan, 2020
This video gives an overview of EAPFoundation.com, and how you can support it via Patreon.
---
Regular videos
The following are regular videos, which are more extended (usually around 10 minutes), with voice-over and detailed information on specific aspects of EAP.
---